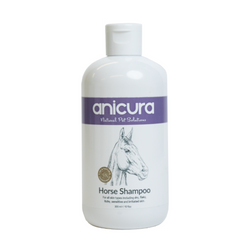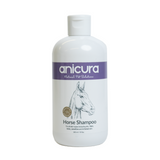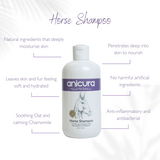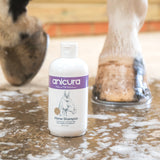 Anicura Horse Shampoo is a high-quality natural pet shampoo, filled to the brim with plant oils and extracts. Suitable for all skin types, this gentle, natural Shampoo soothes skin prone to sensitivity, dryness, sweet itch, eczema, dermatitis, mud fever, rain scald, seborrhoea (dandruff), skin allergies and other skin irritations.

Our Horse Shampoo has been created to provide a natural alternative to the harsh and chemical shampoos that are on the market. The naturally active ingredients have been carefully selected for their bio-scientifically proven ability to soothe and nourish problem skin and to support the maintenance of healthy skin. This delicately scented Shampoo will leave your horse's skin and fur feeling nourished and moisturised, with a beautiful shine.
Leaves skin and hair feeling moisturised & full of vitality
Omega Rich formula to provide deep nourishment
With soothing Oat, calming Chamomile and moisturising Aloe Vera
Free from harsh synthetics such as parfum and SLS
Naturally and delicately fragranced
For best results, use together with our Horse Spray and Horse Gel.