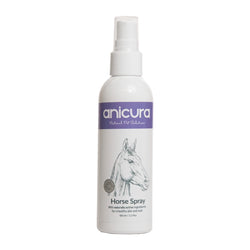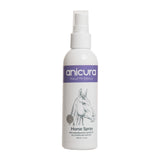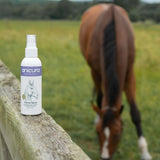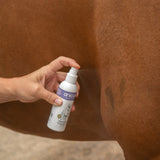 Our Anicura Horse Spray was made to provide instant relief and long-term benefits for horses suffering from itchy, dry, flaky or sensitive skin. Also suitable for horses prone to skin conditions such as sweet itch, eczema, dermatitis, skin allergies, mud fever, rain scald and seborrhoea (dandruff).
This easy-to-use Spray contains 15 natural oils and extracts and works in two ways. Firstly, it instantly breaks the itch/scratch cycle by providing immediate hydration and cooling ingredients such as Peppermint and Eucalyptus. Secondly, the wealth of nutrients in the Spray provides the skin with everything it needs to find its healthy balance again, resulting in stronger, healthier and more resilient skin over time.
Designed to instantly break the itch/scratch cycle
Fine liquid sinks in quickly and provides deep hydration
Full of vitamins and minerals to strengthen the skin over time

Non-greasy and easy to apply on longer for or larger areas
Safe if accidentally ingested
For best results, use together with our Anicura Horse Gel and Horse Shampoo.