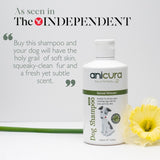 Anicura Dog Shampoo is a high-quality natural pet shampoo, filled to the brim with plant oils and extracts. It's perfect for all dogs, including dogs prone to itchy skin, sensitive skin, dry and flaky skin, eczema, canine dermatitis and skin allergies.
Our Dog Shampoo has been created to provide a natural alternative to the harsh and chemical shampoos that are on the market. The naturally active ingredients have been carefully selected for their bio-scientifically proven ability to soothe and nourish problem skin and to support the maintenance of healthy skin. This delicately scented Shampoo will leave your dog's skin and fur feeling nourished and moisturised, with a beautiful shine.
Leaves skin and fur feeling moisturised & full of vitality
Omega Rich formula to provide deep nourishment
With soothing Oat, calming Chamomile and moisturising Aloe Vera
Free from harsh synthetics such as parfum and SLS
Naturally and delicately fragranced
For best results, use together with our Dog Spray and Dog Gel.
Anicura Dog Shampoo is a high-quality shampoo only containing natural and naturally derived ingredients. This unique product gently supports sensitive skin and nourishes the coat at the same time. The mild shampoo is especially suitable for dogs that suffer from sensitive skin, dry and itchy skin or flaky and chapped skin.
The high quality blend of pure and natural oils, vitamins and minerals, like Sea Buckthorn and Rosemary, make Anicura Dog Shampoo an exceptional product to help to maintain both a healthy skin as well as a healthy coat. The product will work with the dog's skin instead of against it and will provide the necessary nourishment and comfort.
Due to the lack of using chemicals that would create a big foaming effect, our shampoos are to be considered 'low-foam', still foamy, just no bubbles!
Aqua, Decyl Glucoside, Lauryl Glucoside, Glycerin, Coco-Betaine, Urea, Panthenol, Sodium Benzoate, Potassium Sorbate, Xanthan Gum, Vaccinium Macrocarpon (Cranberry), Pelargonium Graveolens Flower (Geranium), Aloe Barbadensis (Aloe Vera), Melaleuca Alternifolia Leaf Oil (Tea Tree), Avena Sativa Kernel Flower (Oatmeal), Neem Leaf Extract, Hippophae Rhamnoides Kernel Extract (Sea Buckthorn), Rosmarinus Officinalis Leaf Extract (Rosemary), Lactic Acid, Recutita (Matricaria) Flower Extract (Chamomile), Hibiscus Sabdariffa Flower Extract.
Apply to wet coat and massage gently. Leave on for a little while and rinse off with (luke) warm water. Remember our shampoo is low-foaming.
We do not recommend bathing our pets too often, as it would disturb the natural self-cleansing oils that can be found on the skin. For dogs we generally say once per month, or if you prefer more often because your dog tends to get mucky, every other week.
If you have a long coated dog, use our Dog Conditioner after having rinsed out the Shampoo.